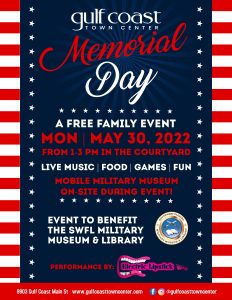 This Memorial Day, the Gulf Coast Town center is having a FREE family friendly event to celebrate and to raise awareness and funds for the SWFL Military Museum & Library. This event will include live music by Electric Lipstick, games, food, raffles and fun.
During the event, the SWFL Military Museum's mobile museum will be ON SITE to explore and to educate the public about our nation's military heritage.
Monday 30 May, 2022 1:00 PM – 3:00 PM
in the courtyard.